The best laptop for writers isn't ultra high-end specs and power. Instead, it needs to be portable, lightweight and comfortable.
In this article, we recommend laptops based on their writing suitability. So rather than looking at RAM, graphics cards, CPU, and other specs that people usually think of when choosing the best laptop, we've picked out 3 of the best writing laptops with good ergonomic designs, plenty of memory, and a cheap(er) price tag.
Jump to:
We'll give you our honest opinion of each one BEFORE you buy. We also compare reviews from some of the industry's most trusted names to give you the full picture.
Finally, the best laptop for writers requires a good word processor, so we round everything off with our Best Software for Writers choice.
Dell Inspiron 15 5000 – Best All-Round Laptop for Writers
Dell have been consistently been making lower-end laptops to a high-end standard for a long time and their Inspiron 15 5000 is a great example of this. This is a thin, lightweight, and super portable laptop that will allow you to complete the basics with minimal fuss.
The design of the Dell Inspiron 15 5000 is very sleek with a nice 15.6-inch touchscreen that should fit into both bags. The other specs are also good for a thin and lightweight device like this:
8th Gen Intel Quad Core i5-8250U Processor

8GB DDR4 RAM

1TB HDD
But what makes this the best laptop for writers? Well, the keys are backlit so you can work in dimly lit locations and they also have a very nice spring and responsive feel. It's also a full keyboard layout too which should make your keystrokes more accurate (see: Full Keyboard Laptop Explained).
What the Critics Say
One downside to the Inspiron 15 5000 is that it has plenty of bloatware preinstalled. PCWorld touch on this with a list: Amazon, Kindle, McAfee, Dell Shop, Dell Backup and Recovery, Dropbox, Dell Learning Center, Cyberlink Media Suite, and Dell SupportAssist.
It's true that you may well find some of that useful and you can often uninstall the ones you don't. However, it's not great to open a new laptop to be bombarded with ads and pop-ups.
Of course, one of the big advantages of a traditional laptop like this over the Surface Go is that the usual ports are in place. Trusted Reviews explains the full list – but HDMI, USB, SD card reader, and ethernet are all covered.
Pros:
Touchscreen enabled
Backlit keyboard for writing in dimly lit locations
Great all-rounder
Easy to carry around
Cons:
No SSD drive
A little too much bloatware
See also: Best Laptop Bag for Men or else Best Laptop Bag for Women
Microsoft Surface Go – Best Portable Laptop for Writers
The Microsoft Surface Go is a hybrid between a laptop and a tablet which weighs in at just 522g.
The screen also happens to be a respectable 10 inches so the device will easily fit within most bags. Therefore, this is the best laptop for writers who are constantly on the move.
When purchasing the Microsoft Surface Go, there is a lot of flexibility. This has both positive and negatives.
The biggest downside is that the keyboard and pen is an additional purchase on top of the device, despite being a necessity (ever tried typing on a touchscreen? Don't.) This adds to the overall cost – but the price you see above includes the keyboard for no nasty surprises.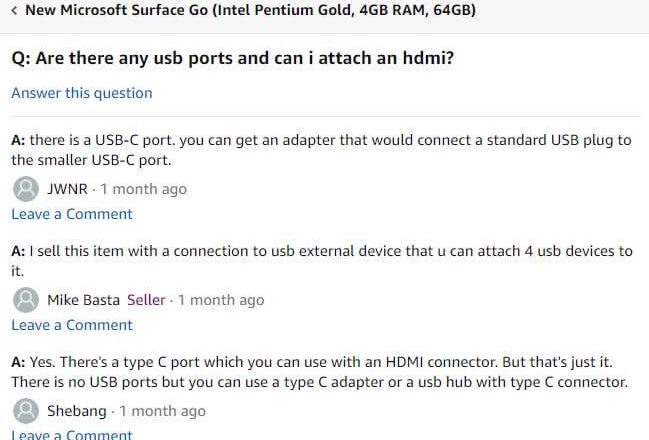 A separate USB-C adaptor is needed to connect USB sticks & HDMI cables
On the other hand, you can customize the exact RAM and internal memory to your preferences. Also, you can add Microsoft's Office bundle too if you wish.
What the Critics Say
In terms of reviews, the Microsoft Surface Go got a score of 7 from both TheVerge and Gadgets360.
TheVerge claimed that it's "wildly convenient, but really underpowered". However, as this is the best laptop for writers on the move, a powerful device isn't really necessary. Gadgets360 say as much be stating that it will "serve you well" as long as your main targets are something extremely light and portable.
Pros:
Extremely light
Customizable memory
Perfect for remote working
Cons:
Keyboard and pen are add-ons
USBs and HDMI cables require an adaptor
ASUS Chromebook Flip – Best Chromebook for Writers
The ASUS Chromebook Flip is the alternative best laptop for writers because it uses Chrome OS rather than the typical Windows or Mac. Depending on your needs, you can stick with the lower-end Intel Core m3 processor or upgrade to the Intel Core m5 processor for an extra $160.
The laptop feels great in your hand as it weighs in at 1.2kg despite having a full metal body. The screen is very bright with 12.5 inches to look at.
Crucially, the typing experience is very good. The keys have a nice amount of travel at about 1.6 millimeters, and they're fully backlit for those dimmer environments (although, it is on the smaller side).
The Chrome OS is a nice lightweight alternative to your standard Windows devices – and is also recommended as one of our best business laptops.
What the Critics Say
A full five stars by TechRadar really does give you an immediate impression of what to expect from this device. They're picked out the "tactile keyboard" as one of their pros, and could only bash the ASUS Chromebook Flip for its "middling speakers".
In all honesty, we think that the USB-C and lack of HDMI port might be bigger problems for some. Also, you need to be prepared for something different to Windows. If that's not a problem then you can also check out our other best Chromebooks.
Pros:
Full metal body feels sturdy
360-degree foldable touchscreen
Backlit keyboard
Cons:
Some traditional ports missing
Sizeable cost to upgrade the processor
Microsoft Office 365 Personal – Best Software for Writers
So far, we've only looked at the best laptop for writers but we all know that word processing software is vital too. It might seem a cliché but Microsoft Word is without doubt one of the best programs around. However, getting a good deal isn't always obvious.
Of course, you can always buy the traditional Microsoft Home, Student, or Professional suite for one person for a one-time fee. However, if any of your family or friends (up to 6 people in total) are willing to split the cost then Microsoft 365 may well be better – as explained by How-to Geek.
The cost of Microsoft 365 shown above is a yearly fee – but you'll get $20 off the price if you buy a new PC, Mac or Chromebook at the same time. Contained within the 365 package are Word, Excel, PowerPoint, Outlook, 1TB of OneDrive Cloud Storage, OneNote, Publisher, and Access (last two for PC only).
So, it's not just Word that you may benefit from. If you're a freelance writer or you have to manage your own small business, you can use Excel for invoices, create presentations about future projects in PowerPoint, and then keep them all backed up in the cloud.
What the Critics Say
It's not just How-to Geek that sing Microsoft Office 365's praises – it's real users too. According to TrustRadius which allows professionals to rate business software, Office 365 has managed a very respectable 8.5 our of 10 at the time of writing.
Even better, reviewers have left a series of dislikes which you can peruse to weed out any possible conflicts. Here's an example:

Of course, there are always plenty of free alternatives touted by those who believe Microsoft Office to be too expensive as well. If you fancy giving one of these a trial run, PCWorld do a good comparison.
Pros:
Full suite of Office software for versatility
Automatic updates give you the latest capabilities
1TB of OneDrive cloud storage is great for small memory devices
Cons:
Yearly fee
Requires sharing to make it really worth it