Having your laptop close at hand is imperative for many people these days. However, you don't have the luxury of carrying it around in your pocket like a smartphone so a bag that's designed to carry your best laptop is what you need. In this article, we're going to be more specific by looking at the best laptop bags for women.
Jump to:
To cater for everyone's needs, we've chosen one laptop bag for a specific style – tote, messenger, backpack, small and big. If one of these matches the design you want then you can jump straight to that specific laptop bag for women to see if it's right for you.
If you're at the beginning of your research then read on to learn exactly what kind of women's laptop bags are on the market. We'll break down their features, size and look at reviews by real buyers to give you the full picture.
Best Tote Laptop Bag for Women – Amazon's Choice!
The first bag in our line-up is the women's Sunny Snowy tote laptop bag which also happens to be the Amazon Choice best bag for women. It's supposed to be an everyday, simple laptop bag that's easy to use and carry around day-to-day.
Like any good tote bag, it has a large capacity but also has many functional multi-purpose pockets. It has two large folder compartments, one zipper layer, two further slip pockets, and another side zipper pocket – great for all your additional dongles or cable. The laptop protective pocket is made from a 60mm padding material, protecting the laptop from scratches and light knocks and bumps. The inside has a full polyester lining, the outside is a very attractive and lightweight nylon, and the bottom has a durable bottom for protection – there are a variety of different color combinations available, but brown is our favorite. This casual, simple, and attractive bag is available for both your standard 15.6 inch and 17-inch laptops.
Many users have reported loving the bag, claiming that it is exactly what they expected. However, the bag is sizeable, has many pockets, and when it fits a 15.6-inch laptop many have reported that the other pockets can't reasonably hold anything.
Pros:
Simple design
Easy accessibility due to large zip-top
Good value for money
Cons:
Not as protective as other bags
Laptop pocket means interior space isn't as big as initially appeared


---
Best Messenger Laptop Bag for Women
The second laptop bag on our list is the best messenger bag around, which is the Brinch slim and lightweight briefcase shoulder messenger. This is a simple, slim and lightweight messenger bag that comes in a variety of pastel colors. The bag is only 4cm in thickness and is supposed to accompany other non-laptop bags you may have.
The Brinch messenger laptop bag is made from water-resistant nylon fabric and has a PU leather surround. This means the bag will protect your laptop from direct bumps to the corners, which not all messenger bags do, because of the protective surround, but also it will protect your laptop from spills, splashes, and light rain. The interior of the bag is also optimized for protection. It has a soft fluffy lining, along with a 360-degree padding system to protect your laptop from bumps and scratches – the fluffy lining works particularly well to protect your laptop from those annoying and repetitive dust scratches. Although small, the bag also features 2 side zip pockets, 1 pocket to hide the handles away, and. 1 rear magazine/document pocket. The carry options include the briefcase handles and the detachable shoulder strap.
This bag is available for 14-inch, 15-15.6-inch, and 17-17.3-inch laptops. And, if the shoulder straps are removed and the handles are hidden, then it can function as a laptop sleeve. The bag is well made, and many have praised the build quality of the bag. However, the functionality of the outer pockets is diminished as soon as a laptop is inside. In addition to this, its generic sizing means you're best finding out your laptop dimensions before purchasing, as some laptops may fit more or less snugly in each of the sizes.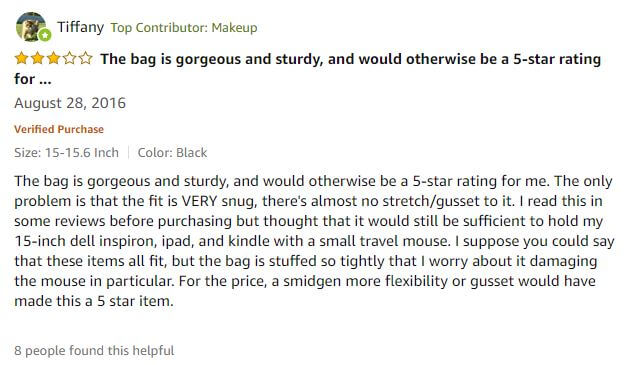 Some users reported issues with size after purchase so be sure to check your laptop dimensions
Pros:
Slim and lightweight design
Removable shoulder straps and sleeve functionality
Cons:
Water-resistant and not waterproof
Outer pockets aren't reasonably useable when laptop inside


---
Best Laptop Backpack for Women
The third bag on our list is for those of you who prefer a backpack to any form of side-bag, it is the Kenneth Cole Reaction Chevron Quilted Laptop Backpack. This is a very stylish and sophisticated backpack, the aesthetic of the bag is aimed at the professional business person on the move, and the bag comes in two different colors – black and blue.
The Kenneth Cole Reaction backpack has a stylish quilted exterior, made from polyester and twill. It has a tear-resistant interior and premium 'self-repairing' gold zippers, meaning this bag will last for a long time. The bag has a main internal laptop pocket, accessible from the rear of the bag, and the main compartment containing an additional padded tablet pocket, along with two open-topped accessory pockets. Along with this, there is a large front zipper pocket – with plenty of smaller spaces for your phone, notebooks, pens, etc – and one small zipper pocket for easily accessible items.
The Reaction backpack also has some handy features that make traveling very easy. It has two open side pockets, so you can put your flask or water bottle in, and it has a trolley strap, allowing you to secure the bag to your wheelie bag for hands-free transportation. The bag comes in one size, intended for a 15-inch laptop, but many users report that it doesn't fit notebooks or binders well. Overall, however, users report that this is one of the best bags for traveling and comfort.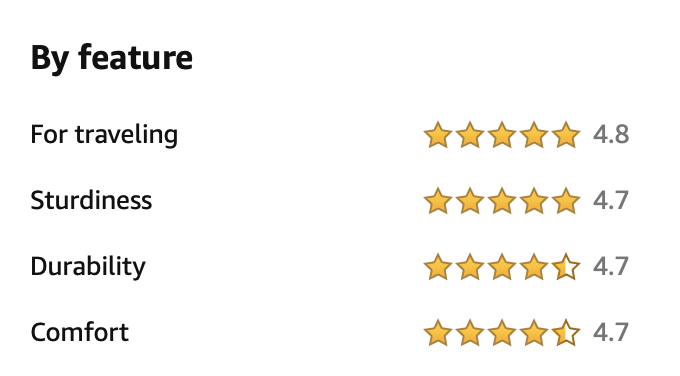 Kenneth Cole Reaction backpack is good for travelers
Pros:
Trolley strap for effortless traveling
Padded pocket for tablets too
Cons:
Limited color options
Not a great size for notebooks or binders


---
Best Small Laptop Bag for Women
If you're in the market for a small laptop bag, then the Dachee Messenger Bag might be the one for you. It is a very small, easy to use, and incredibly stylish messenger bag, coming is a wide array of vivid colors and sophisticated patterns.
Dachee's messenger bag comes with a waterproof and shockproof exterior, meaning your laptop will be safe if you ever happen to drop it during a rainstorm. The outer material is made of a thick-weave canvass and comes with a thick metal zipper – giving the bag a durable, but lightweight feel. The bag has briefcase straps and detachable shoulder straps and comes with a soft felt interior.
The bag is available in two different sizes, for 13-inch laptops and 15.6-inch laptops – capable of carrying all our best laptops for writers. Many have reported that the side pockets of the bag are easily large enough to hold your charger cables and power brick, but some have reported that the print quality of the design is not always up to scratch.
Pros:
Small and simple
Removable straps for briefcase functionality
Cons:
Intricate designs aren't always top quality


---
Best Big Laptop Bag for Women
The last bag in our line-up is a bag for ladies who have a larger laptop, the Kroser Anti-theft & USB laptop backpack. The Kroser backpack is a sensibly styled backpack with plenty of functionality and helpful features. It comes it two clean colors: dark grey and charcoal black – and it also doubles as one of the best laptop bags for men too.
The Kroser backpack is made from a durable water-repellent canvas poly, meaning your laptop and documents will never get wet. The back has a distinct padded laptop compartment, compatible with nearly all 15-17-inch laptops, along with the main compartment and a front accessories compartment. The main compartment is ideal for carrying larger items like folders, books, and reports. If you like to hook up your laptop to additional screens, there may even be space to fit a dual monitor stand. The front compartment is equipped with many separate pockets, ideal for your phone, charger, dongles, and cables.
The Kroser also features an in-built keychain, keeping your keys safe, and an anti-theft pocket (which is a zipped pocket on the back-side of the backpack). It has a glasses hook on the strap, for your every day or sunglasses, along with a luggage strap to make traveling even easier. Finally, the bag has an internal USB cable, which you can connect your external power bank to, allowing you to charge easily on the go. It's the perfect addition to your best business laptop.
Pros:
USB charging cable
High-quality material
Anti-theft pocket for safety
Cons:
Only two colors
Might not fit some of the very large gaming laptops