Finding a laptop capable of handling your favorite games without breaking the bank can be a Herculean task. Fortunately, they don't need to cost an arm and a leg as there are a number of affordable options allowing you to pick the best gaming laptop under 800 dollars.
Jump to:
Laptop gaming demands solid performance from the hardware. So, finding the right specs at the right price point can present difficulties in selecting the best budget gaming laptop for your needs.
See also:
Below are our 3 best gaming laptops under $800 that do the trick.
1. Dell G3 15-3579 – Best All-round Gaming Laptop under 800
The Dell G3 15 rises to the occasion of offering an affordable gaming laptop that ticks the boxes any budget conscious gamer desires.
It has an SSD for fast booting speed and a 1TB standard HDD for plenty of storage space. The initial loading times for games on the HDD can be labored but you'd do very well to find a more powerful laptop for the price once the game is ready.
The 15.6" full HD IPS anti-glare screen makes viewing easy from all angles. The screen's brightness isn't perfect and the laptop has been known to struggle to keep 60 FPS for top-tier games. However, as far as $800 budget gaming laptops go, it's up there with one of the best.
What the Critics Say
TechRadar praises Dell's G3 15, describing the laptop as performing "admirably on all benchmarks". They do state that you'll find it difficult to play some of the more processor-heavy games on max settings. But they admit that the best gaming laptops under 800 aren't really built for that.
It was PCWorld who lamented the dull display by stating that they "expect[ed] more from a gaming rig". Yet, they too touched upon the impressive CPU performance and also commented on a good battery life.
Pros:
Mix of SSD & HDD memory
Solid GPU and CPU performance for price point
Good dual-purpose laptop for everyday tasks and gaming
Cons:
Dim display
Can struggle with heavy games


---
2. MSI GV62 8RD-200 – Best Gaming Laptop under $800
For a more traditionally gamer-focused laptop, the MSI GV62 8RD-200 offers reasonable specs at a manageable price.
The key feature of the MSI GV62 is that it arrives with Intel's Optane Memory Module. As TweakTown explains, this is an economical alternative to SSD performance without the heavy price tag.
The 16GB Optane Memory is a learning technology which can be used to load game levels quicker, alongside other benefits. It works in unison with the 1TB HDD to offer both speed and ample storage.
The NVIDIA GeForce 1050Ti GPU will keep pace with your games and is a good bang for your buck. Just don't expect the top-end performance that you'd get for a higher price tag.
Combine this with the i5-8300H chip and 8GB of RAM and you're looking at a system that can deliver everyday tasks with ease while also delivering a smooth gaming experience. Unfortunately, it's not VR-ready while battery life has been questioned.
The icing on the cake has to be the aesthetics too. The MSI GV62's bright red accents and red backlit Steelseries keyboard make it certainly the best gaming laptop under 800 in terms of visual appeal!
What's Been Said
One of the most common questions we come across is whether a laptop is ready to play right out of the box. In this case, many agree that the only accessories you'll need is a mouse (see: best MMO mouse) and also a headset (see: best headset for streaming).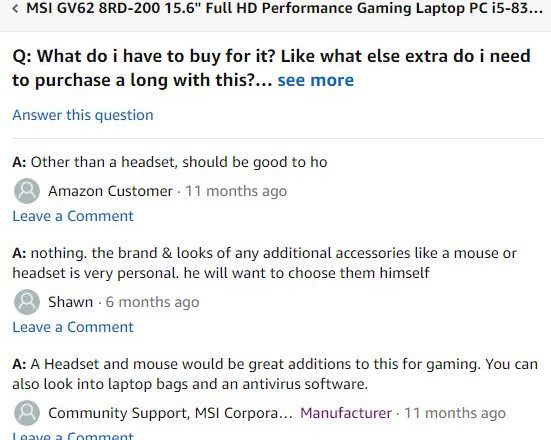 Pros:
Intel's Optane Memory Module mimics SSD effect
Decent overall gaming specs
Cool aesthetics and lighting
Cons:
Lackluster battery life
No VR gaming


---
3. Acer Aspire R 15 – Best Convertible Gaming Laptop under 800 dollars
Acer Aspire R5 2-in-1 Convertible 15.6 FHD IPS Touchscreen Laptop(2017 Model), Intel Core i5-7200U 2.5GHz, 8GB DDR4 Memory, 1TB HDD, Backlit Keyboard, HDMI, Bluetooth, WiFi, Windows 10
2-in-1 Convertible 360° flip-and-fold design, 15.6-inch Full HD (1920 x 1080) IPS Touch Display, Acer TrueHarmony Plus technology Audio + Stereo speaker with Subwoofer
7th Generation Intel Core i5-7200U 2.5GHz Processor (3M Cache, Boost up to 3.1GHz), No optical Drive
8GB DDR4 SDRAM 2133MHz (Expandable to 12GB), 1TB 5400rmp SATA Hard Drive, Backlit Keyboard
Wireless-AC, Bluetooth, HDMI, 3 X USB 3.0 , 1 x USB 2.0, Built-in media reader, Built-in HD webcam with two microphones, Headphone/microphone combo jack
Windows 10 64 Bit Home, Up to 9 hours battery life, Color: Steel Gray with Aluminum chassis
We think this one might be slightly controversial to be considered as the best gaming laptop under 800 – but hear us out!
The Acer Aspire R 15 is a 2-in-1 hybrid that can double as both a mobile gaming station and also a day-to-day laptop. It offers a sleek and stylish aluminum design that is a bit more lowkey than the MSI and will blend into the background.
The Acer Aspire R 15 also boasts 12 GB of DDR4 RAM. This gives snappy responses while a dedicated NVIDIA GeForce 940MX GPU displays crisp graphics. There is an SSD included, but this only reaches 256GB with no extra memory from an HDD.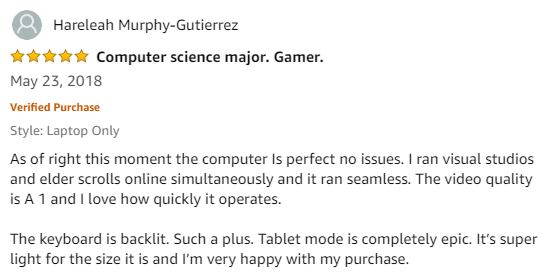 In all truth, this is a gaming laptop well under $800 that's perfect for anyone who wants an all-round machine with decent light-gaming performance. However, you can't expect it to crunch games that need high-end graphics and/or processing.
You can peruse the full specifications over at Intel.
Pros:
12 GB of RAM
Lightning quick SSD
Flexible aluminum design
Cons:
Low 256GB memory
Not ideal for big games